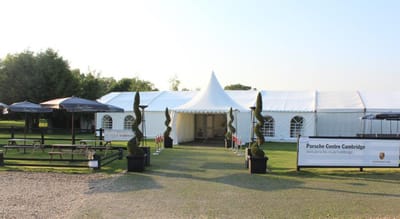 Trevor Page Marquees is a Cambridge company, that's been supplying marquees and associated equipment to colleges, local authorities and of course, to the residence of Cambridge and further a field, for over thirty five years.(established 1984)
We can supply, Marquee linings, carpeting, Tables, Chairs, Heating, Dance floors, Air conditioning, raised flooring, Lighting, everything, you may need for your event.
As a long established company, you can be assured of a a first class personal service, as our regular
customers already know.
If you would like a free site visit, or a estimate for your event, just give us a call, or send an email of your requirements, to include what type of event it is, the number of people you would like to accomodate, will the event be seated or standing, a buffet with part seating and also let us know , if you would like a dance floor, as the more information you give us the better estimate we can give to the size of marquee you may require.
If you request a site visit, you will be under no obligation whatsoever or committed in any way.
After our visit, we will just send you the estimate and leave it to you, if wish to go ahead.